Faith-Centered Wellness for Small Groups: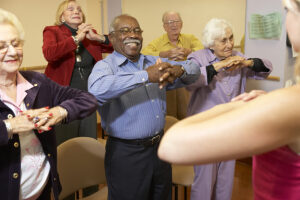 Grace Classes is a unique exercise program that combines isometric exercises with full-body stretching, core strengthening, and relaxation breathing. Each session is one hour long and is set to a Contemporary Christian music background. A yoga mat is the only equipment necessary. A Grace DVD is available for home use.
Wellness Makeovers involve taking at least one day a week and concentrating on being healthy and well, on the inside and out. This program helps participants take their centered selves and apply God's Word to the seven main areas of their lives: bodies, minds, souls, relationships, home, work and finances.
Stay On Track monthly sessions are designed to provide long-term support. Stay on Track is a two-hour interactive support session. Participants discuss progress and problems encountered in living God's way every day through spiritual, emotional, and physical wellness. The ultimate focus is to provide each individual with a great support system so it is easier to maintain a healthful lifestyle.
Centered Fitness for Corporations:
How do we bring this holistic training to the corporate world?
Through keynote speaking and corporate-wide health and wellness programs.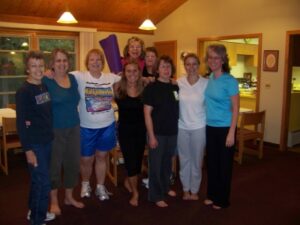 Through our nondenominational sister company, Centered Fitness, we are able to use the same holistic approach to those working in the secular world so that they, too, can achieve the ultimate holistic health. We simply encourage individuals to frame our teachings within their own faith references. We examine all seven areas of holistic health: mind, body, soul, home, relationships, work, and finances. Holistic health is warmly received by today's professionals who are seeking deeper meaning and a peaceful and joyful life.
Kimberly Mathews is a gifted keynote speaker.
Check out her current list of keynote topics.
Ms. Mathews can also be contracted for ongoing holistic fitness programs, presented at your place of employment.