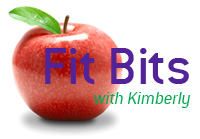 Fit Bits are designed to help encourage you to apply scripture to your everyday life. These are bits of fitness/wellness information.
I hope that by reading these you will be encouraged to:
1. Love the Lord God with all your heart, mind and soul.
2. Love your neighbor as yourself.
3. Love yourself with a 1 Corinthians 13 type of love.
I send these out to my Faith Centered Fitness friends on a regular basis via email. If you would like to receive these please send me your email and I will gladly put you on my mailing list. I also would love to apply Fit Bit knowledge to your question, concern or comment. Please feel free to write me with whatever is on your mind. I hope you enjoy these Fit Bits as much as I enjoy bringing them to you.
Be fit and be blessed,
Kimberly