Host a Holistic Fitness Retreat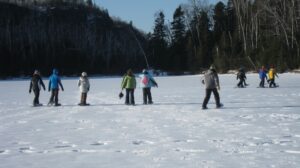 Retreats are a great way for us to get away from it all and focus on improving our lives. Practicing good wellness on a retreat and then bringing those skills home is a great way to jump start your healthful lifestyle. Faith-Centered Fitness retreats include seminars, recreation, small group discussion, relaxation, healthful nutrition, individual support, exercise and fun.
Attend one on our calendar or custom-plan your own by contacting Kimberly.
New! Fitness Vacations!
We offer Fitness Vacations year round at a private lake home, located on beautiful Barker Lake in Northern Wisconsin. Fitness Vacations can be for individuals or small groups. During your fitness vacation, you will work on establishing healthful habits while enjoying many fun activities.