Book Your Fitness Vacation Today!
When we're excited about something, it's natural to want to share our enthusiasm with others. Holistic health, having all parts of your life in sync, is a wonderful feeling. It is, in fact, the very essence of being fully human. Like us, w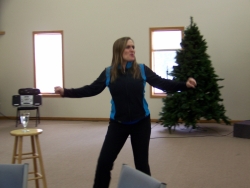 hen you achieve it, you'll want everyone else in your life to also experience it.
Book Your Motivational Keynote Address Today
Kimberly Mathews is a gifted keynote speaker.
Check out her current list of Keynote topics.
Attend one of our Holistic Wellness Seminars
Faith-Centered Fitness' seminars are designed to be inspirational, motivational, and informative. Our goal is to equip people so that they can live healthy God-centered lives. We teach them how to fill their lives with Christ, not chaos, and how to treat their bodies like a temple, not a trash can.
Host a Holistic Wellness Retreat
Retreats are a great way for us to get away from it all and focus on improving our lives. Practicing good wellness on a retreat and then bringing those skills home is a great way to jumpstart your healthful lifestyle. Faith-Centered Fitness retreats include seminars, recreation, small group discussion, relaxation, healthful nutrition, individual support, exercise and fun.
Kimberly can also be contracted for ongoing holistic fitness programs, presented at your place of employment.
Attend one on our calendar or custom-plan your own retreat (contact Kimberly).